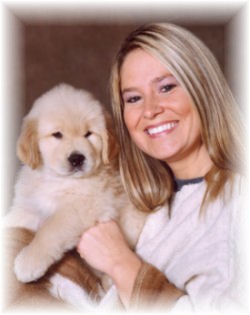 Welcome to the website of Wyoming Golden Retrievers and thank you for your interest. As a member of the GRCA (Golden Retriever Club of America), the Land O' Lakes Hunting and Retriever Club and the Hunting Retriever Club (HRC).we follow a strict Breeders Code of Ethics. Wyoming is not a "commercial" breeder of Golden Retrievers and we only sell our puppies to loving homes where they will be treated as a family member.
Wyoming Goldens is a small hobby show kennel currently located in Osceola, Wisconsin which borders Minnesota. It was originally established in Wyoming, MN, hence the Wyoming kennel prefix. Growing up, my family always had a golden in the house but I didnít become really active in the breed until I brought Int. Ch. Zia Wyoming Perfect Kaskayde (Kayde) home from Zia Goldens. It was because of her I became so deeply passionate about Goldens and have chosen to dedicate all that I can to preserving and improving the breed.
Our first and foremost goal is to provide happy, healthy, well rounded dog companions. All our dogs in our breeding program have been certified clear by OFA for hip and elbow issues. We also screen for Subvalvular Aortic Stenosis and other heart abnormalities by a Board Certified Cardiologist along with yearly eye (CERF) exams by a Board Certified Ophthalmologist.
In addition to researching health clearances, we also strive to preserve the perfect Golden temperament. The Golden is truly recognized for its sweet disposition and friendly face. All of our four legged kids are raised in our home, surrounded by a family environment. We aim to produce dogs with correct structure, movement, and workability keeping in mind the most important aspect of producing mentally and physically sound dogs. We are Golden Retriever lovers with a strong interest in promoting responsible dog ownership through education while preserving the integrity of the breed.
Please feel free to contact us at anytime in regards to our puppies, dogs or the breed in general. We are very proud of our Wyoming kids and all of their accomplishments as show/performance dogs and as family companions.
Thank you again for your interest in Wyoming Golden Retrievers.

Denyce and Fran McLaughlin
Wyoming Golden Retrievers