THANK YOU FOR YOUR INTEREST IN WYOMING GOLDEN RETRIEVERS!!
OUR RESERVATIONS FILL UP VERY FAST. WE ARE CURRENTLY ACCEPTING QUESTIONNAIRES AND DEPOSITS FOR OUR PUPPIES READY TO GO TO THEIR NEW HOMES IN FALL AND WINTER OF 2023. PLEASE CONTACT US FOR MORE INFORMATION.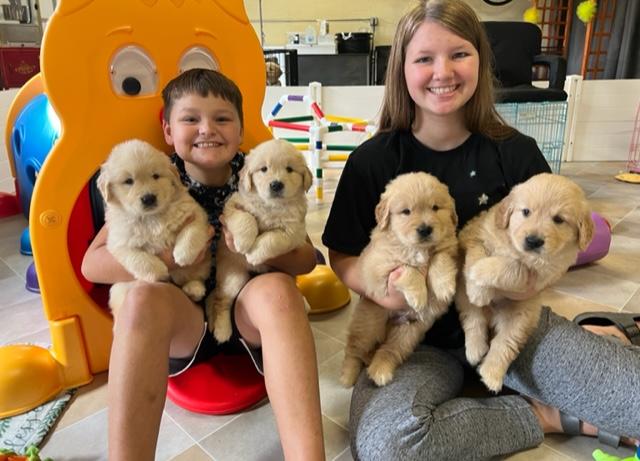 IF YOU WOULD LIKE TO BECOME A FUTURE OWNER TO ONE OF OUR FOUR LEGGED FUR BABIES, PLEASE WE PREFER THAT YOU WRITE US AT - WYOMINGGOLDENS@YAHOO.COM AND TELL US ABOUT YOU. WE WILL NOT BE THE CHEAPEST PUPPY YOU FIND AND WE TYPICALLY DO NOT RESPOND TO MESSAGES JUST ASKING US WHAT OUR PRICES ARE. WE WILL SHARE THAT INFORMATION WITH YOU AS WELL AS MANY OTHER THINGS TO CONSIDER WHEN CHOOSING YOUR NEXT GOLDEN RETRIEVER WHEN YOU CONTACT US AND TELL US ABOUT YOU AND YOUR FAMILY/LIFESTYLE.IF YOU STILL HAVE QUESTIONS AFTER WE MESSAGE YOU - YOU CAN CALL 651-757-6858. THANK YOU! ************************************************* PLEASE HELP STOP PUPPY MILLS!!! Puppy mills are nothing new. These mass dog-breeding operations have been around for decades, but they continue to be a problem because unsuspecting consumers keep buying those adorable puppies in the pet store window. Or on some slick Internet site. Or even through an ad in the trusted local newspaper. But behind the friendly facade of these pet shops, web sites, and newspaper ads, there often lies a puppy mill. These canine breeding facilities frequently house dogs in shockingly poor conditions, particularly for "breeding stock" animals who are caged and continually bred for years, without human companionship and with little hope of ever becoming part of a family. After their fertility wanes, breeding animals are commonly killed, abandoned, or sold to another mill. The annual result of all this breeding is hundreds of thousands of puppies, many with behavior and/or health problems. The puppies will be shipped cross country by truck to be sold in pet shops, but many are also sold via newspaper classifieds or Internet sites — and are often accompanied by false claims such as, "We'd never sell puppies from a puppy mill." PLEASE HELP STOP PUPPY MILLS AND BE AWARE OF WHO YOU ARE WORKING WITH WHEN PURCHASING YOUR FUTURE PUPPY. MANY HOURS OF EFFORT & TRANING GO INTO YOUR PUPPY FROM US BEFORE THEY LEAVE. ALL PUPPIES ARE CUTE BUT ARE THEY BEING BRED FOR THE RIGHT REASONS AND IS YOUR PUPPY COMING FROM A REPUTABLE BREEDER YOU TRUST AND FEEL COMFORTABLE WITH? WE ARE PROUD OF OUR 'GOLD' HERE & LOOK FORWARD TO FILLING YOUR ONE WITH ONE OF OUR FOUR LEGGED FUR KIDS. THANK YOU!

Your puppy will come with a 24 month health guarentee if your contract is being followed properly - When your puppy comes from us - You will receive weekly updates and photos/video of your puppy changing weekly Your puppy will come with a certificate of health, have their first vaccine and be wormed before leaving us - Your puppy will come with a Limited Registration with AKC - Your puppy will come with a starter collar - Your puppy will come with an informational puppy packet from us which includes many tips and tricks to use along the way when raising your puppy - Your puppy will come with a stuffed animal that has mom and littermates scent - Your puppy will be exposed to a crate while here with us. We hope you choose Wyoming Golden Retrievers for your next Golden Retriever puppy!